Contact Information
This page is so you can get in touch with areas in my campaign.  I want to serve the people of Utah's 1st District with honor, integrity, and transparency.  If you are not able to find an email contact, please email me directly and I will find the answer for you as soon as possible.
Contacts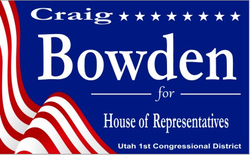 Craig Bowden
To get a hold of me, ask question, or have an issue you would like me to look into, please send me an email and I will be in touch as soon as I possibly can. It is my goal to get in touch ASAP.
Chief of Staff
If you have an issue, or wish to get something clarified, often times my Chief of Staff is the best person to get a hold of. They can release statements on my behalf and get you in touch with my campaign for any campaign related issues.
Press Office
If you are looking for disclosure information, documentation, or any sort of press contact with me, please contact my Press Office and someone will be in touch with you.
Scheduling
If you would like to schedule a rally, speaking engagement, home visit, or anything of that nature, please contact my scheduling staff. I look forward to meeting you.